Biden team has 'deeply rooted hatred for Russia' – US congressman
Senior State Department officials Victoria Nuland and Antony Blinken are "dangerous fools," Paul Gosar declared
RT.com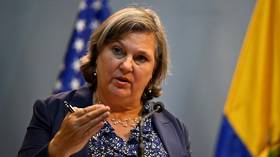 Senior officials at the US State Department are attempting to get the country "involved in another world war" with Russia, Arizona Congressman Paul Gosar tweeted on Friday. Gosar, Twitter CEO Elon Musk, and former president Donald Trump, have all named Victoria Nuland as the most dangerous among this group in recent days.
Responding to an RT article on Musk accusing Nuland of "pushing this war" in Ukraine, Gosar declared that the billionaire "is correct."
"Both Nuland and Blinken have a deeply rooted irrational hatred of Russia, and they seek to get the US involved in another world war," he continued. "These are dangerous fools who can get us all killed."
In a follow-up tweet, Gosar wrote that "as a non-soldier, Nuland is quite willing to endorse violence and war." The Republican lawmaker then quoted the article, which stated that Nuland had "endorsed regime change in Russia, celebrated the US' destruction of the Nord Stream pipelines, and called for the indefinite flow of arms into Ukraine."
As assistant secretary of state for European and Eurasian Affairs in 2014, Nuland helped to orchestrate the pro-Western coup that unseated democratically elected president Viktor Yanukovich. Nuland traveled to Kiev and promised military aid to the rioters, and was recorded plotting to install a successor to Yanukovich.
As Biden's secretary of state, Blinken has promised to keep weapons flowing into Ukraine "for as long as it takes," and advised Kiev in December not to seek the kind of negotiated settlement that would liken to a "phony peace."
Gosar has been a persistent critic of the Biden administration's Ukraine policy since Russia's military operation began a year ago on Friday. However, although the Republican Party now controls the House of Representatives, there is little the Arizona congressman can do to change the administration's course. A significant bipartisan majority supports continued military aid to Ukraine, with only 11 Republicans, Gosar included, sponsoring legislation that would cut funding for Kiev.
These Republicans are all allies of former president Donald Trump. In a campaign video released on Tuesday, Trump blamed the situation in Ukraine on Nuland and "others like her" in the Biden administration. Nuland, he said, was "obsessed with pushing Ukraine towards NATO," adding that the conflict would have "never happened if I was your president."
___
https://www.rt.com/news/572017-blinken-nuland-hate-russia/