Facebook's Democratic comms chief admits to SHADOWBANNING NYPost story on Hunter Biden emails
RT.com
A former Democratic Party staffer now working for Facebook has admitted to shadowbanning a viral story allegedly exposing Democratic presidential candidate Joe Biden's Ukrainian ties and has encouraged "fact-checkers" to shred it.
As a New York Post story claiming Biden scion Hunter had introduced his father to a Ukrainian energy executive less than a year before the then-Vice-President pressured Kiev into firing the country's top prosecutor swept across social media on Wednesday morning, Facebook communications exec Andy Stone announced the social media behemoth was "reducing [the story's] distribution on our platform."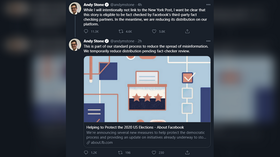 The reduced distribution was only a temporary measure until "Facebook's third-party fact checking partners" could stamp their seal of (dis)approval on the story, Stone clarified in a later tweet, apparently confirming he'd preemptively flagged the story as disinformation. Stone openly touts his history with the Democratic Party in his Twitter profile, which shows he worked with the House Majority Political Action Committee, California Democrat Senator Barbara Boxer, the Democratic Congressional Campaign Committee, and California Democrat Rep. Jerry McNerney.
Stone's announcement caught the eye of Federal Communications Commissioner Brendan Carr.
The "bombshell" story Stone was so eager to keep off Facebook claims the younger Biden had introduced his father to Ukrainian energy executive Vadim Pozharskyi, a senior employee of Burisma Holdings, less than a year before the VP strong-armed Kiev into firing a prosecutor who was investigating Burisma. Hunter Biden was infamously paid $83,000 per month to sit on Burisma's board, despite having no experience with either Ukraine or the energy sector.
The Post's story is based on emails allegedly retrieved from a computer belonging to Hunter Biden by a repairman who was given the laptop to fix last April. In another email, Pozharskyi allegedly asks Hunter how he might "use his influence" on Burisma's behalf with the Obama administration. Both the computer and its hard drive were allegedly seized in December by the FBI after the repairman contacted the agency, but the repairman claimed to have made copies of the incriminating material.
Continue reading at:
https://www.rt.com/usa/503523-facebook-shadowbans-nypost-hunter-biden/