Hurricane Iota Erupts To Category 5, "Catastrophic" Damage Expected
ZeroHedge.com
Update (1315 ET):  With Hurricane Iota honing in on Central America – the area could experience a massive economic loss of its most valuable crop: cocaine coffee.
On Saturday, AccuWeather Senior Meteorologist Dave Samuhel estimated Hurricane Eta destroyed 10% of Central American coffee crop earlier this month. He said this percentage could increase as Iota is set to strike the area.
"AccuWeather estimates that additional impacts from Iota could be as much as another 10% to perhaps 25% loss as the region could be more susceptible to damage in the wake of Eta," Samuhel said.
Coffee C contracts via Ice for December jumped nearly 6% Monday as Iota could make landfall in northeastern Nicaragua tonight or early Tuesday morning.
*  *  *
Update (1223 ET): Hurricane Iota strengthened into a Category 5 hurricane on Monday morning and is expected to make landfall in northeastern Nicaragua on Monday night or early Tuesday morning, the National Hurricane Center (NHC) said.
As of 1000 ET, Iota was located approximately 100 miles east-southeast of Puerto Cabezas, Nicaragua, with maximum sustained winds of 160 mph.
At Category 5, Iota is expected to be even more devastating than Hurricane Eta, which pulverized Central America earlier this month.
"This is a catastrophic situation unfolding for northeastern Nicaragua with an extreme storm surge of 15-20 ft forecast along with destructive winds and potentially 30 inches of rainfall," the NHC wrote.
*  *  *
Update (0515 ET): Powerful Hurricane Iota is headed toward the Nicaragua and Honduras coastline as a catastrophic Category 4 storm and could become a Category 5 on Monday.
The National Hurricane Center (NHC) said Iota has "rapidly strengthened overnight and now has 155 mph (245 km/h) sustained winds."
"It could reach category five status later today before making landfall with 12-18 feet of storm surge," NHC warned.
Around 0500 ET, Iota was about 25 miles northeast of Isla De Providencia, Colombia, and moving west at ten mph. Landfall forecasts point to late Monday or early Tuesday morning.
Iota could dump between 8 to 16 inches of rain in northern Nicaragua, Honduras, Guatemala, and southern Belize. Some areas could receive upwards of 30 inches. This comes weeks after Hurricane Eta battered the area in early November.
Iota is the 30th named storm of this year's record-breaking Atlantic hurricane season.
*  *  *
Iota strengthened to a hurricane Sunday over the southwestern Caribbean Sea, expected to "bring potentially catastrophic winds, a life-threatening storm surge, and rainfall impacts to Central America," reported the National Hurricane Center (NHC).
NHC's 1000 ET Sunday update outlined how Iota is "rapidly intensifying" as it could be an extremely dangerous category 4 near the coasts of Nicaragua and Honduras."
The current landfall forecast says tropical conditions will arrive on the coasts of Honduras and Nicaragua by Monday morning. "This is an extremely dangerous situation with Iota expected to be category 4 at landfall!" NHC warned.
Earliest Reasonable Arrive Time Of Tropical-Storm-Force Winds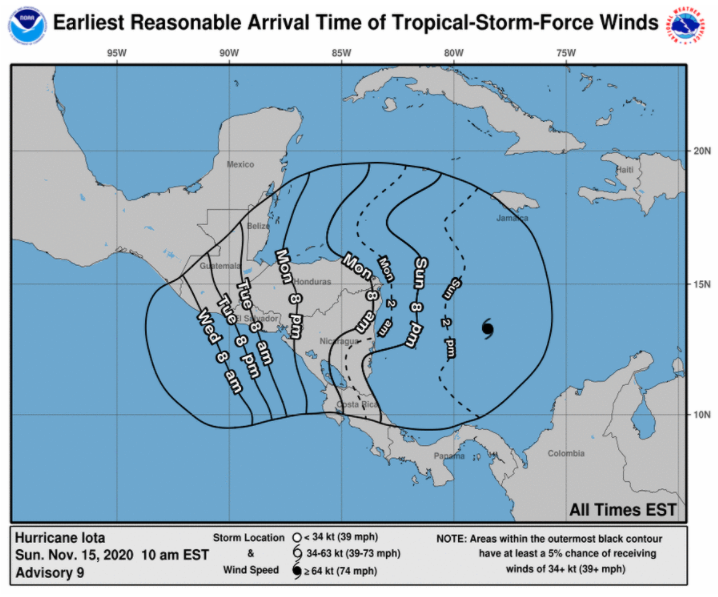 Wind Speed Probabilities 
Hurricane Warning For Much Of Nicaragua and Honduras Coastline
Hurricane Model 
We explained on Saturday Iota would become a "major hurricane." Weather models are forecasting the storm could dump 8 to 30 inches of rain on Honduras, northern Nicaragua, eastern Guatemala, and southern Belize by early next week.
In early November, Hurricane Eta battered the region (read: here & here), destroying upwards of 10% of the coffee crop in Central America, with Iota likely to push up the percentage to 25%.
___
https://www.zerohedge.com/commodities/rapidly-intensifying-hurricane-iota-set-slam-central-america