By Katie Spence
The Epoch Times
Twenty-one states, plus the District of Columbia, have legalized recreational marijuana for adults as of April 2023. And while marijuana is still illegal at the federal level, 88 percent of adults think it should be legalized for medical and recreational use, according to an October 2022 Pew Research Center survey—a significant increase from 1999's 31 percent.
Additionally, 55 million Americans currently use marijuana, and 45 percent of the population has tried it at least once, according to the National Center for Drug Abuse Statistics.
But as attitudes and state laws change regarding marijuana—and its use increases—reports of marijuana laced with substances like the synthetic opioid fentanyl, are also increasing.
"One of the trends that we saw secondary to the pandemic was individuals stopped reporting opioid use as their primary drug of choice, and it seems to be replaced with marijuana and methamphetamine," Teresa Russell, the director of criminal justice outreach in Dayton, Ohio, told The Epoch Times. Russell works between the county jail and community health and treatment facilities.
Russell explained that when someone is booked into the jail and needs to detox, they're asked about drugs they've taken and must take a urine drug screen. Russell said it's becoming increasingly common for someone to say they've only used marijuana but then pop positive for fentanyl.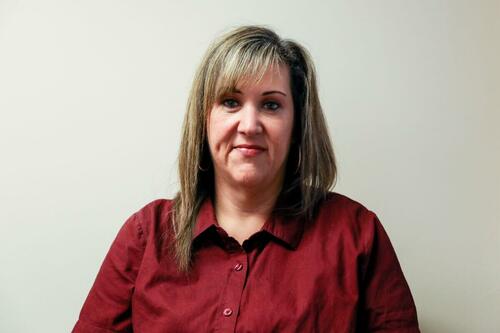 "They genuinely don't know that [opioids are] in there," Russell said. "They have no idea what's actually being put inside their substances. That's an ongoing trend of what we're seeing."
When explicitly asked if marijuana is being laced with fentanyl and showing up on drug screens, Russell confirmed that's what she's seeing.
"We hear that not just from my team here in the jail from our intake screens, but we're hearing that from our outreach partners."
NORML, a nonprofit public-interest advocacy group pushing for the legalization of marijuana, is quick to downplay the issue of fentanyl-laced marijuana.
"Rarely a week goes by without police or other public officials warning about so-called 'fentanyl-laced' weed. Upon closer inspection, however, there's little if any truth behind these sensational claims," NORML says on its site.
"It's controversial," Russell said of fentanyl-laced marijuana, "But I have urine drug screens that show it."
Russell isn't the only one sounding the alarm on what she believes is a growing issue.
Cases
On Feb. 10, two students at North Mac High School in Illinois, were found to be in possession and under the influence of marijuana, and two field tests administered by the Virden Police Department found that the marijuana was positive for fentanyl.
Kyle Hacke, the superintendent of North Mac, said in a statement, "We are fairly certain our students did not know they were ingesting fentanyl. Fentanyl-laced drugs … continue to show up in small communities like ours nationwide. We implore you to speak with your children and take necessary steps to combat this danger."
On Nov. 17, 2022, police in Leeds, Alabama, charged Jose Ingnacio Medina-Estrada with murder after he allegedly sold marijuana that was laced with fentanyl. The buyer—who believed he was only purchasing marijuana according to LPD Chief Paul Irwin—immediately died as a result.
"This needs to serve as a notice to all individuals who are purchasing drugs. Drugs can take your life immediately or will control you and eventually destroy your life and everything you care about," Irwin said.
On Oct. 20, 2022, the Summerville Police Department in South Carolina released a statement via Facebook that read, "The Summerville Police Department has seized Marijuana that has tested presumptive for Amphetamines and Fentanyl. The laced Marijuana was seized during two apparent drug overdose investigations and it is possible the laced Marijuana played a factor in the overdoses. We are asking the community to stay safe and to be careful."
On Nov. 18, 2021, the Connecticut State Department of Public Health (DPH) issued a press release that stated there were 39 overdose incidents involving fentanyl-laced weed in 2021. However, upon further forensic analysis, only one of those cases could be confirmed to involve fentanyl-laced marijuana.
In its dismissal of fentanyl-laced marijuana, NORML points to the Connecticut case, and the forensic analysis. However, the article NORML cites also states: "Chris Boyle, a spokesperson for DPH, said a full analysis has now revealed at least 30 of the 39 overdoses were among patients with histories of opioid use.
"Anything bought off the street, including cannabis, has the potential to contain other substances, one of those being fentanyl,' Boyle told the media. "CT DPH has documented evidence, from not just the State Police Forensics Lab, but from the DEA lab as verification of the seized drug sample, that cannabis was contaminated with fentanyl.'"
Increasing Prevalence
According to the Drug Enforcement Administration (DEA), fentanyl is a synthetic opioid that's primarily manufactured in countries like China and then smuggled into the United States via Mexico.
"Fentanyl is being mixed in with other illicit drugs to increase the potency of the drug, sold as powders and nasal sprays, and increasingly pressed into pills made to look like legitimate prescription opioids," the DEA states.
"There is significant risk that illegal drugs have been intentionally contaminated with fentanyl."
That's something Howard Barker, the Director of Community Relations at New Life House, a sober living program for men in California, is seeing firsthand. Barker told The Epoch Times that he's seeing a trend with fentanyl-laced marijuana that he first witnessed with cocaine.
"I remember the first few times years ago that we started seeing overdoses happen with things like cocaine, and fentanyl was cut into things like cocaine, and we're like, 'There's no way. Why would you ever put fentanyl in cocaine?'
"I have been doing this professionally for over a decade, and I didn't believe it. I said, 'That doesn't even make sense logically.' You know, if a user is going to get cocaine and go up, the last thing they want to do is go down.
"It's similar with cannabis. If you have someone going for cannabis, and they're hoping to smoke weed, the last thing they want to do is use one of the most potent opiates on the planet. But that's what's happening."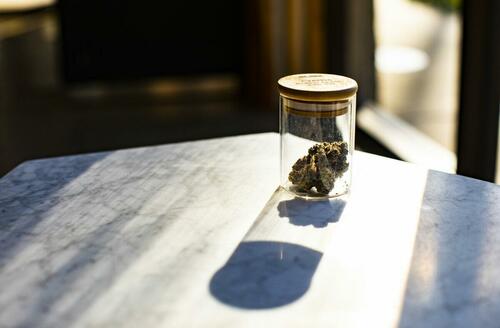 "Dealers have found that because of how addictive fentanyl is, and how potent it is, they start putting it in these other substances, and it's very, very cheap to do, and they're able to one, get more bang for their buck, two, potentially hook users, and three, [dealers] find themselves in a position where the folks that like it are coming back for more."
Barker added that while the majority of street dealers aren't cutting marijuana with fentanyl, it's still a growing problem.
"The problem with fentanyl is that it's really Russian Roulette," he said.
"So even if the majority of the time you're buying weed on the streets you're not getting weed laced with fentanyl, if there's even that small chance that it could happen—and you happen to be the person that gets it—the old scary horror stories about drug abuse, 'you do it one time, and you're gonna die,' that didn't really use to be true 20 years ago, unfortunately, those cliches have become true."
In addition to New Life House, recovery centers nationwide are trying to raise awareness about the growing prevalence of fentanyl-laced weed.
"Authorities around the country are responding to opioid overdoses daily, and fentanyl is increasingly being found in counterfeit prescription opioid pills, meth, and cocaine. Now, that's extended to marijuana," The Recovery Village warns.
"Although marijuana is probably less likely to be intentionally laced with other psychoactive substances than many other illicit drugs, this situation does occur. It is more likely to occur in cases where individuals who are selling a drug illicitly are attempting to bulk up the product and get more profits or when very low-quality cannabis is laced with some other drug to enhance its psychoactive effects," the American Addiction Centers states.
First Drug
Barker, who's been in recovery for years and previously voted to legalize marijuana, believes Americans were lied to regarding marijuana.
"We were really lied to as a society," Barker said. "And that's why this stuff has just been pushed through time and time again, state by state by state, without resistance. And now we're seeing that there's just a lot of unintended consequences that nobody was aware of. Whether we were deliberately misinformed or whether we just didn't have the data. But now that the data has come out, we've chosen not to act because there's too much money behind [legalizing marijuana]."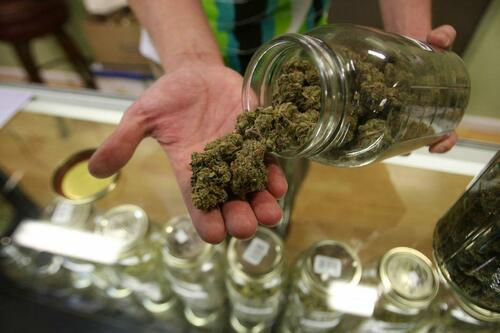 Barker added, "Regardless of what the mainstream media will tell you, cannabis is a gateway drug. I have tremendous amounts of anecdotal evidence from being in this industry for a long time to support that. Talk to anyone with substance abuse issues and ask them what the first substance they used that kind of broke down the taboos and exposed them to that world, and 99.99 percent of them are going to say cannabis."
For the 12-month period that ended in October 2022, the FDA reported more than 101,750 fatal overdoses in the United States, many due to illicit fentanyl.
The DEA didn't respond to The Epoch Times' multiple requests for comment about the prevalence of fentanyl-laced marijuana.
___
https://www.zerohedge.com/medical/despite-denials-experts-say-fentanyl-laced-marijuana-growing-problem