Diego Maradona's lawyer calls for investigation into 'criminal idiocy' of emergency services after his death
Argentina great died on Wednesday due to cardiac arrest but his lawyer Matias Morla accused emergency services of ignoring his health for 12 hours and taking too long to arrive after being found unresponsive
Jack de Menezes, Sports News Correspondent
INDEPENDENT
Diego Maradona's lawyer has accused the first responders who attempted to save the Argentine football great of taking too long to arrive at his home, and has called for a full investigation into the circumstances that led to his death on Wednesday.
He was released to continue his recovery from home where he moved into the Tigre complex along with a nurse to look after him, but on Wednesday he reported feeling ill at breakfast and, according to an preliminary autopsy, he suffered a pulmonary edema caused by heart failure and died in his sleep.
But his lawyer, Matias Morla, has accused medical personnel of ignoring his condition for the final 12 hours of his life and labelled the time it took for an ambulance to arrive as "criminal idiocy" in a strong outburst on Twitter.
"It is inexplicable that for 12 hours my friend has had no attention or check-up from the personnel dedicated to these ends," Morla said in a statement on his Twitter account.
"The ambulance took more than half an hour to arrive, which was a criminal idiocy," he added, saying that the fact should not be "brushed aside" and that he would seek a full investigation into the matter.
Maradona's psychologist, Carlos Ciaz, and psychiatrist, Agustina Coaschov, both arrived at the property, where it soon became apparent that he was unresponsive.
According to a preliminary autopsy that has been leaked to the Argentine media, they entered Maradona's room after he failed to respond to his nephew.
The report stated: "They went to his bedroom on the ground floor and spoke to him and he didn't reply and they asked his nephew and an assistant to enter the room.
"They tried to wake him up and after failing to detect any vital signs made an unsuccessful attempt to revive him by practising CPR.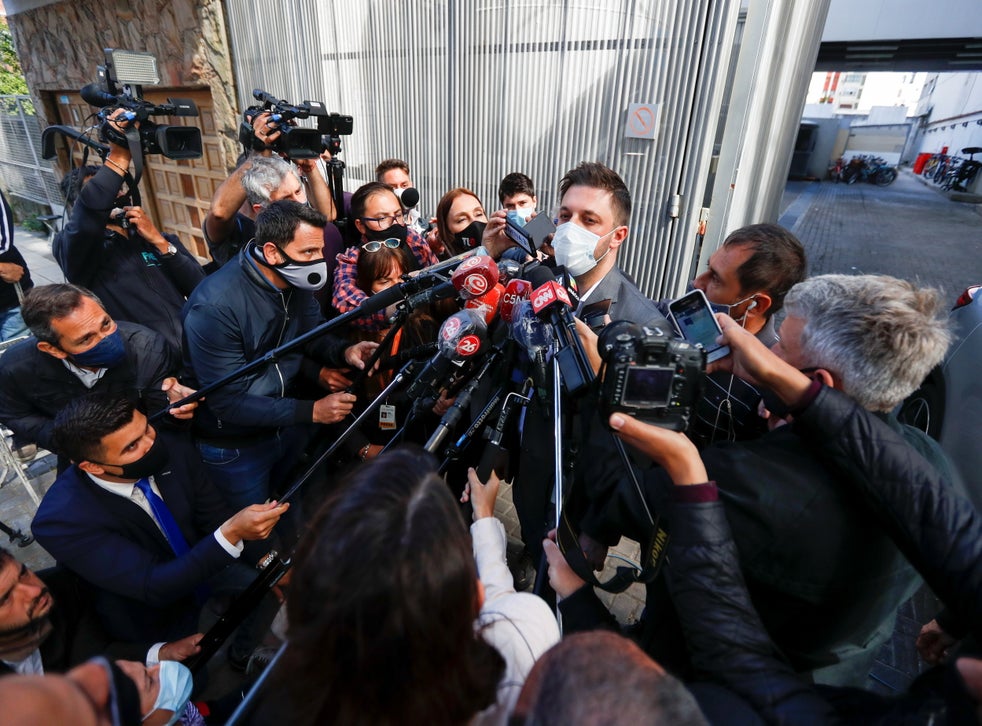 "The first emergency medical responders on the scene continued the attempts to revive Maradona along with a surgeon who lives near the property, using adrenaline and atropine which is a prescription medicine used to treat the symptoms of low heart rate."
State prosecutors said that Maradona died around midday local time, with a routine inquiry set to be completed into his death. Officials confirmed there are no suspicious circumstances.
It's reported that Maradona died in his sleep from heart failure, which caused a pulmonary edema, where fluid builds in the lungs and fills air sacks to make breathing increasingly more difficult.
The prosecution general of San Isidro, John Broyad, said: "Diego Armando Maradona died around 12pm local time.
"The forensic police began their work at 4pm. No signs of any criminality or violence have been detected.
"The autopsy is being carried out to determine beyond any doubt the cause of death but we can say at this stage that everything is pointing to natural causes."