Bush, Clinton And Obama NGO Teams Up With AmEx Global To Fly Migrants Into The US
ZeroHedge.com
A new nongovernmental organization (NGO) launched by former Presidents Obama, Clinton and George W. Bush, Miles4Migrants, is teaming up with American Express Global Business Travel (AmEx GBT) and Welcome.US, in order to fly migrants to communities throughout the United States, according to Breitbart.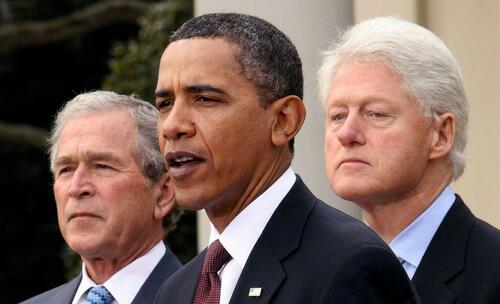 Welcome.US was originally intended to facilitate the resettlement of some of the 85,000 Afghans who fled to the US in 2021 and 2022 following the Biden administration's disastrous pullout from the country. The organization (surprise!) has ties to George Soros' Open Society Foundation through several board members who sit on their "National Welcome Council."
Now, the NGO is teaming up with the open borders group Miles4Migrants as well as American Express Global Business Travel to fund flights to American communities for migrants from Cuba, Haiti, Venezuela, Ukraine, and Nicaragua. -Breitbart
"Donations are needed to fund the flights for newcomers to travel to the United States," the website for the initiative states.
Those forced to flee often leave behind all but what they can carry, and the costs of international travel can be prohibitive. Welcome Connect Travel removes the cost of travel as a barrier for both sponsors in the United States and the displaced families they are supporting through humanitarian sponsorship. [Emphasis added]

With the average cost of a single flight at $1,600, public donations through our partner Miles4Migrants will help provide a lifeline to newcomers, giving them the opportunity to safely travel to their new communities. Donate below to help newcomers access safe travel. [Emphasis added]
Last week Senator Ron Johnson (R-WI) said that close to five million illegal migrants have entered the Untied States since Biden took office in early 2021, a figure which doesn't include those released into the US interior, those who got away, and migrants who were never caught in the first place.
___
https://www.zerohedge.com/political/bush-clinton-and-obama-launch-ngo-fly-migrants-us