ZeroHedge.com
Blackstone has limited investor redemption requests from its $70 billion real estate trust for high-net wealth investors for six consecutive months while storm clouds gather over commercial real estate markets.
According to an investor letter published Monday, the CRE giant and the world's largest commercial landlord said investors asked to pull out more than $4.5 billion in April from Blackstone Real Estate Income Trust (BREIT). Out of the request, the firm only allowed $1.3 billion to be withdrawn, or approximately 29% of the amount requested.
The firm restricts withdrawals to about 5% a quarter, or about 2% monthly caps, leaving investors with a narrower path out of the non-trade REIT.
"We remain confident that BREIT's portfolio will continue to be well-positioned to deliver strong long-term performance and consistent distributions, while providing investors access to the diversification benefits of high-quality real estate as a core portfolio holding," Blackstone told investors. 
However, if this were the case, why do BREIT investors continue to panic exit? Recall last December, Blackstone sent a letter to financial advisors to keep their clients calm. Read the bizarre letter here.
The continued high level of withdrawal requests is an ominous sign that investors are limiting their exposure to the CRE space, as higher borrowing costs risk sending some commercial property values into a tailspin. We've pointed out ("New "Big Short" Hits Record Low As Focus Turns To $400 Billion CRE Debt Maturity Wall") that the regional banking crisis kick-started the coming CRE turmoil. JPM, Morgan Stanley, and Goldman Sachs have all joined the CRE gloom parade.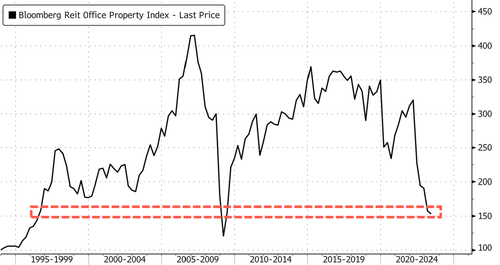 Despite the cracks in the CRE's office space sector, Blackstone asserts that BREIT has "virtually no exposure" to struggling office buildings and malls and emphasizes it has a strong balance sheet.
Still, investors want out of BREIT. The latest BofA Fund Managers Survey (available to pro subs in the usual place) shows institutional players are most bearish on real estate since 2009.
*   *   *
Read the BREIT investor letter. 
___
https://www.zerohedge.com/markets/blackstones-breit-hit-six-consecutive-month-withdraws-cre-deteriorates