Man arrested for 'presidential' porn pics
Explicit material featuring South Africa's head of state was discovered on the suspect's device, according to police
RT.com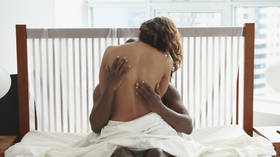 South African police arrested a 34-year-old man on Sunday for distributing pornographic images with the superimposed faces of the country's president, Cyril Ramaphosa, and Minister of Police Bheki Cele, as well as his wife.
Officials told local media that the photographs started circulating on social media and other platforms at the beginning of May.
"The images were distributed to police officers and members of the public on social media platforms. A 34-year-old suspect was traced and arrested in Azalea, Pietermaritzburg, and his device that was allegedly used as well as SIM cards were recovered in his possession," police spokesperson Philani Nkwalase is quoted by TimesLIVE as saying.
Nkwalase also stated that the suspect was in possession of a large number of pornographic images.
___
https://www.rt.com/africa/576697-ramaphosa-face-overlaid-porn-images/