Kiev's continuing attacks on Russian soil are aimed at provoking a "mirror response" from Moscow, the president has said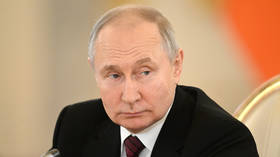 RT.com
Russia has targeted the headquarters of the Ukrainian military's Main Intelligence Directorate (GUR) in Kiev, President Vladimir Putin confirmed on Tuesday.
"We've been talking about the possibility of striking the 'decision-making centers.' Naturally, Ukraine's military intelligence headquarters falls into such a category, and it was hit two or three days ago," Putin stated.
The Russian president also acknowledged a Ukrainian drone attack on Moscow, which occurred earlier in the day. The main goal of such strikes is attempting to "intimidate" Russian citizens, which is a "clear sign" of "terrorist activity" on Kiev's part, he said.
Unlike Ukraine, which has been targeting "residential buildings" in Russia, Moscow is striking only military targets, such as ammunition dumps or fuel depots, with "high-precision" weaponry, he added.
Moscow's anti-aircraft defense fared "okay" in repelling the latest attack, Putin noted, admitting that there still was room for improvement.
Kiev's ultimate goal of indiscriminately striking Moscow and other Russian cities is provoking a "mirror response" from Russia, the president stated.
"They are provoking us into taking mirror actions. We'll se what we can do about it. Yet, Ukrainian citizens, who of course have no say about anything now, since Ukraine has unleashed a total terror against its civilian population, must realize what the incumbent authorities are pushing for," Putin said.
He went on to say that the most grave threats include the continuous effort by Kiev to "disrupt" the work of the Zaporozhye Nuclear Power Plant, as well as potential attempts to use a "dirty" nuclear device.
___
https://www.rt.com/russia/577138-putin-moscow-drones/