ZeroHedge.com
The European Union's Friday announcement effectively ending its import ban on Ukrainian grain in five member states has once again put Brussels on a collision course with some key eastern and central European members. "Existing measures will expire today," the European Commission stated, reportedly based on verbal promises that Kiev will control exports.
Soon after the Russian invasion, the EU sought control measures by placing quotas and tariffs on Ukrainian foodstuffs; however, the flood of cheap Ukrainian grain into European markets threatened the survival of farmers in places like Bulgaria, Hungary, Poland, Romania, and Slovakia. Some of these very countries – Poland, Hungary, and Slovakia – have now said they aren't playing ball, and have announced in unison they will defy the EU decision and are extending the temporary ban.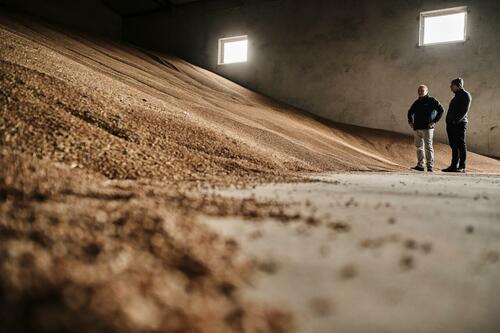 This renews a fight which has raged behind the scenes and threatens to fracture a united European response to the Ukraine conflict. Putin's move to pull out of the UN and Turkey-brokered Black Sea Grain Initiative (by not renewing it) is thus having its desired effect, from the Kremlin's perspective.
Prime Minister of Poland Mateusz Morawiecki defiantly announced Friday, "We will extend this ban despite the European Union's disagreement," according to Polish state media. Underscoring the existing tensions, he called out EU leadership by name, saying "We will not listen to Berlin or von der Leyen, Tusk or Weber. We will do it because it is in the interests of the Polish farmer."
While much of overland Ukraine grain exports have flowed into neighboring Poland with an intention to take it to other EU countries, the majority has tended to remain stuck in the country, which severely impacted Polish farmers given collapsing prices that resulted. Outraged farmers have staged several large protests across the country. The Polish government has said it is defying the EU in the "interest of Polish farmers and consumers."
A similar rationale is being voiced by Hungary and Slovakia. Hungarian Prime Minister Viktor Orban stated Saturday on "X" that his country plans to "take matters into our own hands." Orban said in a fresh shot across the EU's bow:
"Ukrainian agricultural products destined for Africa are flooding Central European markets. The bureaucrats in Brussels are turning a blind eye to the problems of European problems of European farmers once again so Hungary, Poland and Slovakia are extending the ban on imports on a national basis." 
Slovakia's Ministry of Agriculture had on Friday announced its own extension of the ban on Ukraine grain, saying the country must safeguard its "domestic market". EU leadership has meanwhile urged the defiant countries to "work along the lines" of the new agreement and Brussels' policies and to "refrain from unilateral measures".
Western allies have tried to provide relief by negotiating an alternate Black Sea shipping route for Ukrainian vessels through NATO members Romania and Bulgaria's waters off their coasts. But not helping matters is Moscow's stepped up attacks on Ukrainian ports and grain infrastructure, particularly along the Danube river, which Ukraine has been forced to utilize heavily in order to reach the Black Sea.
According to a fresh statement in TASS, "Russian forces have delivered 11 massive surgical strikes on port infrastructure targets, personnel locations and the production and storage facilities of Ukrainian unmanned motorboats over a week, the Russian Defense Ministry said."
___
https://www.zerohedge.com/commodities/poland-hungary-slovakia-extend-ban-ukrainian-grain-exports-hitting-out-eu-leadership