Australians Called to Stand in Collective Silent Protest Aug 31, Demand Parliament Pedophiles Step Down as News of Truckers' Strike Amid Callous Tyranny and Police Attacks on Children in Mass Vaccination Sweeps the World
Our Greater Destiny
Trucker blockades Australia Aug 31. 21 begin at 9 a.m.
Thanks Judy
Along with the truckers' protest, intended to shut down the country and bring millions onto the streets, is a national call to Australians to gather at Local Councils and State Parliaments and State Governors' locations for a Silent Protest, overwhelming the numbers of police at all locations.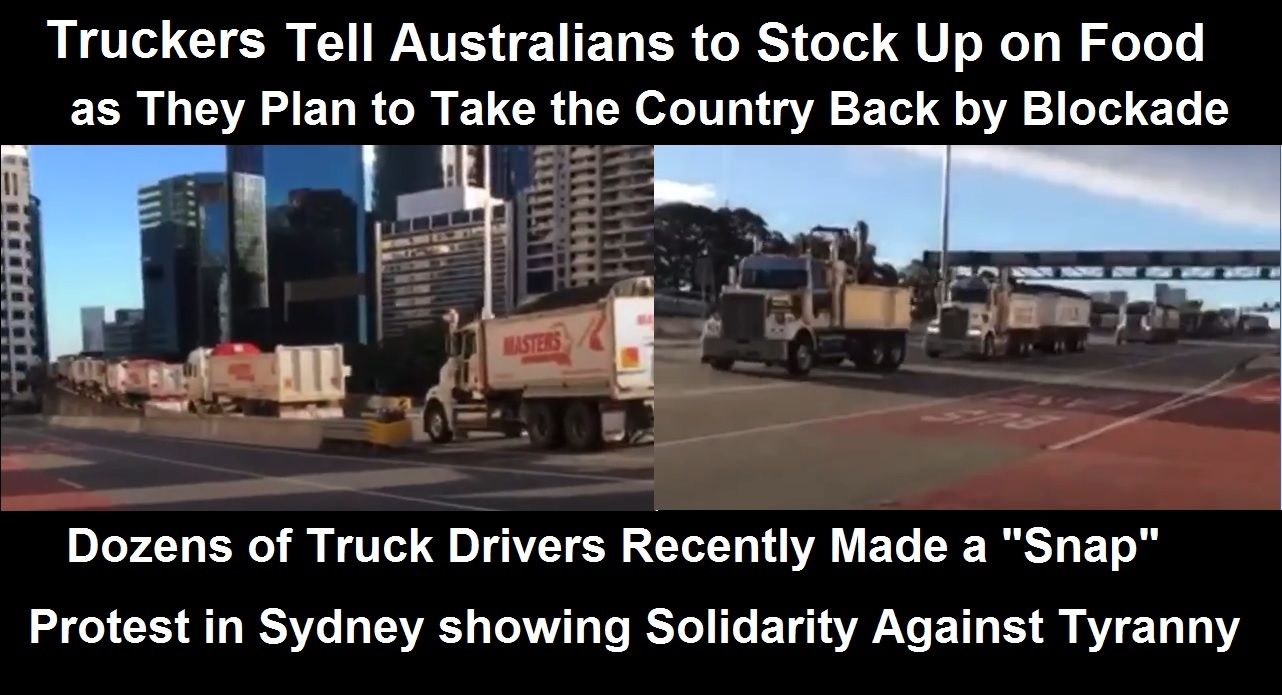 In addition, a letter was sent to all parliamentary representatives, Senates and the Governor General advising them that Australians will stand together on August 31, with intention to force Parliament to stand down so the people can have new elections.
This is a power move by a population fed up with police violence and government despotism and one can only hope nothing untoward will happen and the government indeed stands down and leaves the halls of power so the people of Australia can rise in freedom once again; a breakthrough for the rest of the world as well.
Video messages from truck drivers: WARNING! Graphic language.
https://www.bitchute.com/video/0yn0COw12chS/
https://everydayconcerned.net/2021/08/23/australians-called-to-stand-in-collective-silent-protest-august-31-demand-parliament-pedophiles-step-down-as-news-of-truckers-strike-amid-callous-tyranny-and-police-attacks-on-children-in-mass-vacc/
Australia tyranny tested how far the people can be pushed
Pray every brave Australian safe as they stand together to save the children, preserve our humanity, take back our rights, our freedom and restore this garden paradise.
My body. My choice
World-wide walkout Sept 01.21 https://ourgreaterdestiny.org/2021/08/world-wide-walk-out-against-tyranny-sept-01-21/
The Greatest opportunity 'ever'
When individuals recognize SARS-COV 2 has never been proven to exist 'scientifically' hence there is no covid 19, responses energetically create what comes next. https://www.fluoridefreepeel.ca/fois-reveal-that-health-science-institutions-around-the-world-have-no-record-of-sars-cov-2-isolation-purification/
The PCR test that ends Dec 2021 in the USA because it is ineffective, was a mind control program [cases, cases, cases] to perpetuate fear and train people to obey, while human rights and freedoms, livelihoods and lives, the food supply and more were deliberately destroyed.
The greatest opportunity is to tame our EGO that Edges Greatness Out. Greatness is the Highest Authority and only power, which gives us awareness, breath, and freewill to choose.
A wise choice is to take responsibility for allowing darkness to prevail … so true healing can begin.
Please prepare, care and share. TY
___
https://ourgreaterdestiny.org/2021/08/australian-truckers-warn-citizens-to-stock-up-on-food-as-they-prepare-to-take-back-the-country/