Fire Breaks Out On Ship That Lost 40 Containers Off US Pacific Coast
ZeroHedge.com
Update (Sunday): The container ship that lost dozens of containers in heavy seas west of the US-Canadian border Friday has reportedly caught fire Saturday.
The Maltese-flagged ZIM Kingston is now anchored at Constance Bank, in the Straits of Juan de Fuca off of Victoria, British Columbia, and photos published on social media show a fire broke out in the cargo area.
CHEK News' Nicholas Pescod reports early Sunday morning that ten containers are "now on fire."
There have been no calls to abandon ship, but 16 crew members were evacuated, leaving five still on board. There are reports that hazardous material in two of the shipping containers caught fire.
This is the same vessel that lost 40 containers due to rough waters on Friday. The Canadian and U.S. Coast Guards are monitoring the situation, given possible environmental hazards.
* * *
The global supply chain is more snarled than ever, forcing container ships to stack truck-size intermodal containers to the brim in a technique called containerization. The more shipping containers loaded up on a vessel, the more prone it becomes to an accident at sea in adverse weather conditions.
That's precisely what happened last night, off the Pacific Coast, when stormy seas knocked 40 shipping containers off a vessel. The incident occurred when an inbound container ship about 43 miles west of the Strait of Juan de Fuca entrance was listed to its side due to a storm.
The Coast Guard dispatched a helicopter from Port Angeles, Washington, to investigate the incident. What they found were 35 containers floating and unable to find the rest.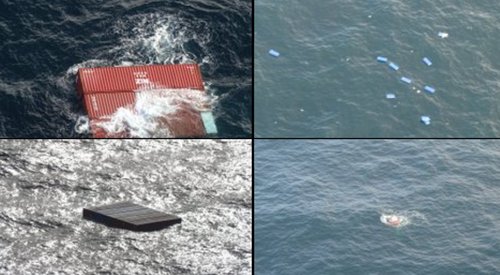 This weekend, a powerful storm is on the Pacific Coast and is responsible for heavy seas and high winds that put container ships at risk of losing cargo.
In April, reports surged of containers being lost as sea as vessels were being stacked to full capacity amid strained supply chains. The unintended consequence of packing ships full of cargo is that they become more accident-prone in rough waters. Add this potential risk to an already fragile supply chain that is experiencing record congestion at ports.
___
https://www.zerohedge.com/markets/40-shipping-containers-adrift-us-pacific-coast-after-vessel-hit-rough-seas